Width : –

Technology : ADAPTIVE BATTERY CHARGING CONTROL (ABCC) TECHNOLOGY

Wall /Floor Mount : –

Thickness : –

Over Volt Protection : –

Material : –

Composition : –

Compatible With : –

Type : Inverters

Supports : Main line

Brand : Luminous
General
Brand
Luminous
Model
Eco Watt 1050
Technology
FSW Technology
Power Specifications
Power Rating
1050 VA
Waveform
Square
In The Box
Box Contents
Main Unit
Installation/Demo (IF Applicable)
1
To book an installation/Demo Request, please call the Luminous Customer Service on 1800 103 3039
2
Installation and unpacking will be done by the Intec's Service Executives within 2 to 4 business days after delivery, although it depends on the Brand.
3
The Brand charges a basic Service fee for installation.
4
You may be charged extra for any extra material required for installation as the cost of the material.
Services Included In Basic Installation
1
Installation of Indoor Unit.
2
Installation of Outdoor Unit.
3
Drill work for Wall Mounting and passage for Wiring, Drain Pipe and Copper Tubing.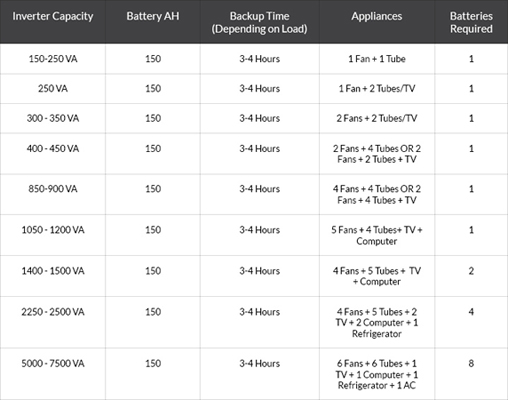 Overview
To avoid or overcome the interruption caused by power cuts in your day-to-day life, all you need is a good inverter like Luminous Eco Watt 1050. This inverter has a capacity of 1050 VA and supports the main line. It has both audio and visual indicators that help you understand the requirements of the inverter and also guides you when the appliance gauges problems with power. The LED display of the inverter signals the battery and load status. It is powered by the Adaptive Battery Charging Control Technology, which helps enhance the efficiency of the product. So, do not let power cuts bring your entire household to a halt, bring home this inverter, now available on Snapdeal at an affordable price.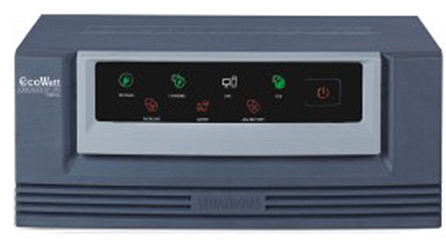 Technology
The Luminous Eco Watt 1050 inverter runs on the Adaptive Battery Charging Control or ABCC Technology. This technology helps the battery charge faster and improves the battery life up to 70 per cent. It also causes less battery-water loss and allows automatic adjustments in the continuous charging profile.
Visual Indicators
This Luminous Eco Watt 1050 inverter displays visual indicators that signal various problems and informs you about different statuses. The inverter displays the charging status, on mains, Eco status, low battery electrolyte level indicator, and UPS and overload statuses.
Audio Alarms
As it is not always possible to keep an eye on the display of the device, this inverter from Luminous also has audio alarms that go off to signal No Load Shutdown, Overload, Battery Over Voltage, UPS on, Battery Low Trip, Short Circuit Trip, and Battery Low Pre-Alarm. These audio indicators inform about situations that need your attention.
Battery Charging & Management
The battery of this Luminous Eco Watt 1050 inverter can be charged without much hassle. The battery can be charged even at 110 V Mains AC. It also has three current settings to charge your battery quickly, as per your requirements. It has four customised charging profiles suited for different types of batteries. The battery even has a holiday mode and a no-load shutdown that helps preserve the charge of the battery. An Intelligent Thermal Management System helps cool down the system and shuts it off in case of overheating. It also has an Intelligent Battery Water Level Sensor, which signals the need of a water top-up. The reverse polarity protection of the battery is another added feature. Furthermore, it is equipped with proprietary FSW technology transformer that ensures high efficiency and longevity.
Safety
The Luminous inverter has an auto reset feature when it faces overload and also an Ultra-Fast Short Circuit Protection. The inverter also comes with a Battery Deep Discharge Protection that can be reset when required.